OP0082 (2018)
Apremilast for behÇet's syndrome: a phase iii randomised, placebo-controlled, double-blind study (RELIEF)
1Istanbul University Cerrahpasa Medical School, Istanbul, Turkey
2Hôpital Saint-Louis, University of Paris 7, Paris, France
3Nippon Medical School Graduate School of Medicine, Tokyo, Japan
4Yonsei University College of Medicine and Severance Hospital, Seoul, Korea, Republic Of
5Celgene Corporation, Summit
6New York University School of Medicine, New York, USA
Background: Oral ulcers (OU) are the most common sign of Behçet's syndrome (BS) and are observed in nearly every patient. Due to their severity and frequency of reoccurrence, OU can be disabling and have a substantial effect on quality of life. There is an unmet need for effective treatment for OU in BS. Apremilast (APR), an oral phosphodiesterase 4 inhibitor that modulates inflammatory pathways, demonstrated efficacy in the treatment of oral and genital ulcers of BS in a phase II study.
Objectives: Phase III study to further evaluate the efficacy and safety of APR for OU in BS pts with active OU previously treated with ≥1 medication.
Methods: In this phase III, multicenter, randomised, placebo (PBO)-controlled study, 207 eligible pts were randomised (1:1) to APR 30 mg BID (n=104) or PBO (n=103) for 12 weeks, followed by a 52 week active-treatment extension. Pts had active BS, with ≥3 OU at randomization or ≥2 OU at screening +randomization, without active major organ involvement. Primary endpoint was area under the curve (AUC) for total number of OU over 12 weeks. AUC reflects the change in the number of OU over time, accounting for the clinical characteristic that OU repeatedly remit and recur. Secondary endpoints assessed other measures of OU, including pain, OU resolution (OU-free), maintenance of OU resolution, and time to resolution. Effects on genital ulcers were also assessed. A prespecified hierarchical testing procedure was used for multiplicity adjustment.
Results: AUC for total number of OU over 12 weeks was statistically significantly lower in the APR group compared with the PBO group (table 1). This treatment effect is supported by statistically significant benefits in the APR group compared with PBO for secondary endpoints assessing OU, including pain, OU resolution, maintenance of OU resolution, and time to resolution. A numerically greater proportion of pts achieved resolution of genital ulcers at Week 12 in the APR group compared with PBO.
The incidence of treatment-emergent adverse events (AEs) was comparable between APR and PBO during the PBO-controlled period (78.8% vs 71.8%, respectively). Serious AEs were observed in 3 APR pts (migraine, oral ulcer flare, genital ulcer, arthralgia, soft tissue injury) and 4 PBO pts (diarrhoea, genital and fungal infections, oral ulcer flare, acne, acute febrile neutrophilic dermatosis, erythema multiforme).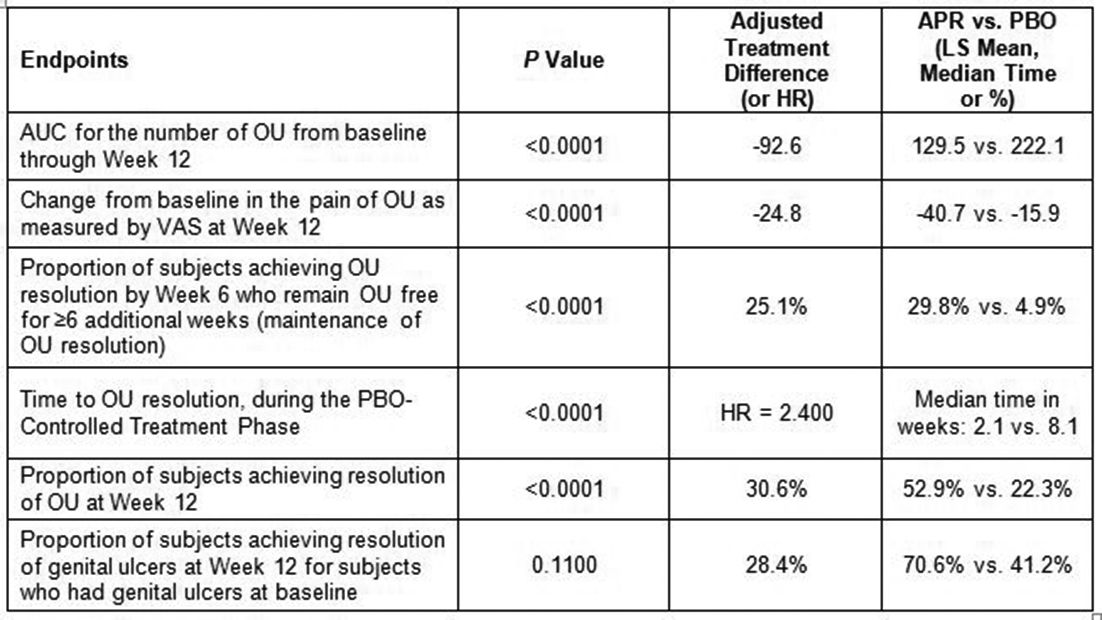 Conclusions: APR effectively reduced the number and pain of OU, improved time to oral ulcer resolution, and maintained the resolution of OU, the most common manifestation of BS. Favourable treatment effects were also observed for genital ulcer resolution. The safety profile was consistent with the known safety profile of APR.
Disclosure of Interest: G. Hatemi Grant/research support from: Celgene Corporation, Speakers bureau: UCB, Abbvie, Mustafa Nevzat, A. Mahr Speakers bureau: Roche Chugai, M. Takeno Consultant for: Celgene Corporation, Speakers bureau: Esai Co, Tanabe-Mitsubishi Co, D.-Y. Kim: None declared, M. Melikoglu: None declared, S. Cheng Employee of: Celgene Corporation, S. McCue Employee of: Celgene Corporation, M. Paris Employee of: Celgene Corporation, Y. Wang Employee of: Celgene Corporation, Y. Yazici Consultant for: Celgene Corporation, Sanofi, Genentech, BMS
DOI: 10.1136/annrheumdis-2018-eular.5627
---
Citation: Ann Rheum Dis, volume 77, supplement Suppl, year 2018, page A91
Session: Let's improve diagnosis and treatment of orphan diseases