OP0245 (2018)
Ability of mri of the sacroiliac joints to differentiate patients with axial spondyloarthritis from women, who have given birth, patients with disc herniation, persons with hard physical work, long-distance runners and healthy males
1Depts. of Rheumatology (COPECARE), Radiology and Biochemistry, Rigshospitalet, Glostrup
2The Birthe Bonde Clinic of Physioterapy, Copenhagen
3Kong Christians X's Gigthospital, Gråsten, Denmark
Background: Sacroiliitis detected by MRI plays a central role in the ASAS (Assessment of Spondyloarthritis International Society) classification criteria for axial spondyloarthritis (axSpA)1. However, both false positives and false negatives have been reported. We have little knowledge of the best MRI approach to separate AxSpA from other conditions that may appear like sacroiliitis.
Objectives: To assess the value of different types of MRI SIJ lesions to differentiate axSpA from other conditions.
Methods: In this prospective cross-sectional study, the MASH study, 204 participants, age ≤45 years were enrolled. All participants with pain should have VAS pain >2 (on a scale 0–10) for ≥2 months. Women with and without pain after pregnancy, patients with disc herniation and all participants without pain were not allowed to have any clinical SpA features or rheumatologic conditions. Information on HLA-B27 and CRP were not available until after the study. The study included 41 patients with axSpA, 46 women with and 14 without pain respectively related to pregnancy/labour≤12 months, 25 patients with lumbar disc herniation, 26 persons with hard physical jobs (cleaning assistants), 23 long-distance runners (≥30 km/week) and 29 healthy men. All participants underwent clinical, laboratory and MRI examination including STIR and T1-weighted sequences of the SIJs. MRIs were evaluated in random order according to the Spondyloarthritis Research Consortium of Canada SIJ MRI scores for inflammation2 and structural lesions3 by two experienced readers blinded to all clinical data.
Results: The 204 participants comprised 41.2% males, had a mean (min-max) age of 33.2 (19; 45) years, and 22% were HLA-B27 positive. The table 1 below shows the clinical characteristics within each participant group, and the preliminary MRI results based on one reader. MRI bone marrow oedema, fat metaplasia and erosions were frequently present in patients with axSpA, but were also seen in the other groups of study participants with and without pain, particularly in women with postpartum pain. MRI backfill and ankylosis were only seen in patients with axSpA.
Abstract OP0245 – Table 1 Clinical characteristics, SPARCC scores and distribution of SPARCC scores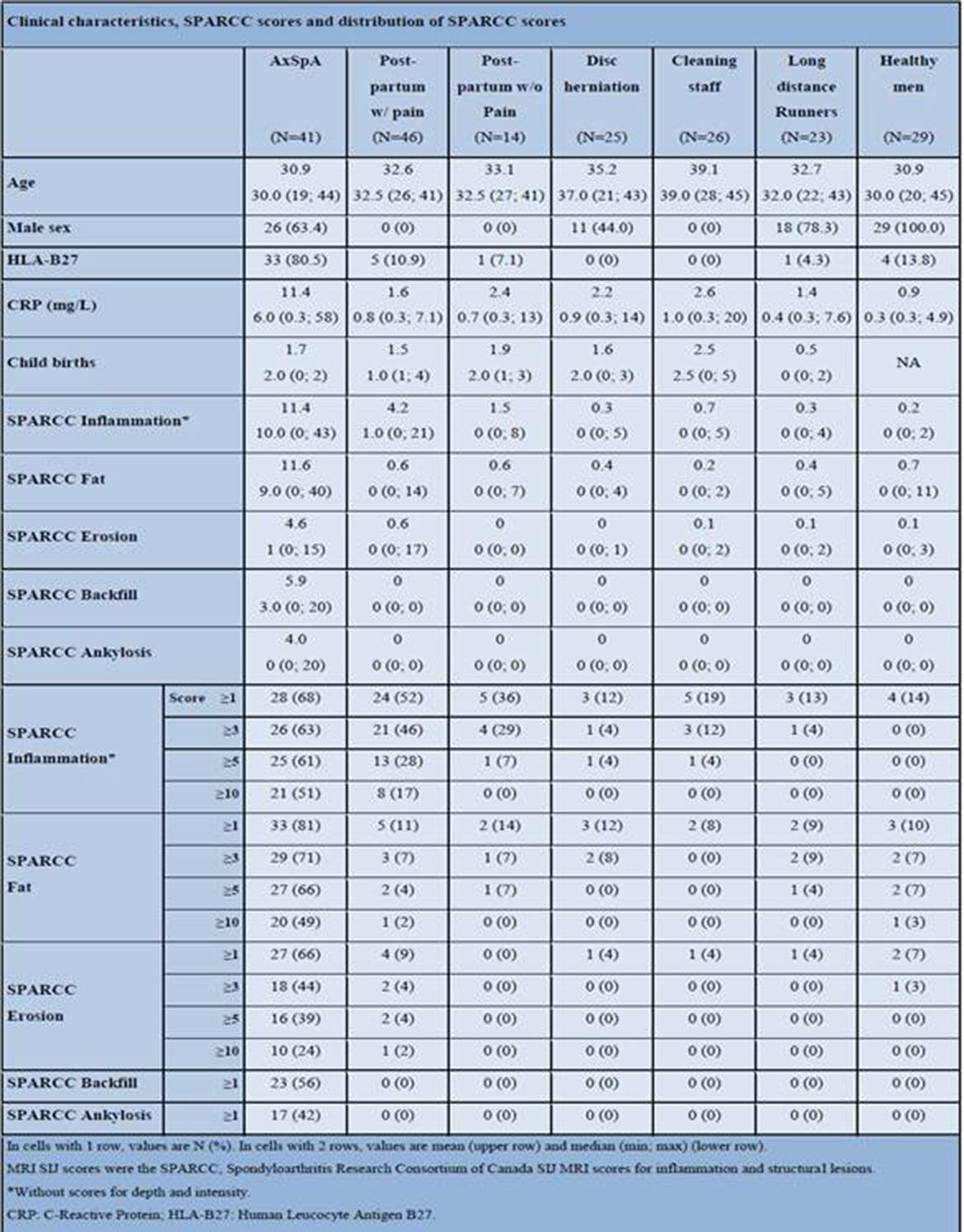 Conclusions: Inflammatory lesions, fat metaplasia and erosions were most frequently occurring in patients with axSpA, but also in women with postpartum pain. The SPARCC-scores cannot separate the different groups entirely. Further detailed analysis of lesions may help differentiate axSpA from other conditions.
References
Rudwaleit M, et al. Ann Rheum Dis 2009;68(6):777–783.
Maksymowych WP, et al. Arthritis Rheum 2005;53:703–9.
Maksymowich WP, et al. J Rheumatol 2015;42:79–86.
Disclosure of Interest: None declared
DOI: 10.1136/annrheumdis-2018-eular.2586
---
Citation: Ann Rheum Dis, volume 77, supplement Suppl, year 2018, page A171
Session: Axial spondyloarthritis: on the interface between healthy and diseased