OP0253 (2018)
A phase iii randomised, double-blind, placebo-controlled study to evaluate the efficacy and safety of abatacept or placebo on standard of care in patients with active class iii or iv lupus nephritis
1Northwell Health, New York
2University of North Carolina at Chapel Hill, Chapel Hill
3University of California San Francisco, San Francisco, USA
4Keio University, Tokyo, Japan
5Hospital Fernández, Buenos Aires, Argentina
6University of Padua, Padua, Italy
7Instituto Nacional de Ciencias Médicas y Nutrición, Mexico City, Mexico
8University of Hong Kong, Hong Kong, Hong Kong
9Bristol-Myers Squibb, Princeton
10Columbia University Medical Center, New York, USA
11University of Cambridge, Cambridge, UK
Background: The tenets of novel treatment strategies for active class III or IV lupus nephritis (LN) aim to improve renal response rates as well as the speed, robustness and durability of responses; decrease extra-renal SLE disease activity; reduce glucocorticoid exposure; ensure tolerability and provide acceptable treatment-related safety profile.
Objectives: Compare efficacy and safety of IV abatacept (ABA), a selective T cell co-stimulation modulator, vs placebo (pbo), on background therapy for active proliferative LN.
Methods: This was a 24-mth, randomised, Phase III, multicentre, double-blind study with an open-ended, blinded long-term extension. Patients (pts) were randomised to pbo or ABA IV 30 mg/kg for 3 mths, followed by ABA~10 mg/kg every 4 wks on a background of mycophenolate and glucocorticoids. The primary endpoint, complete response (CR) at 1 year, was a composite measure that required maintenance of glomerular filtration rate, urine protein-to-creatinine ratio (UPCR) ≤0.5, absence of urinary cellular casts and prednisone ≤10 mg/day. We report Yr 1 data and available post-Yr 1 data for all pts, all double-blind.
Results: 405 pts were randomised (ABA n=202; pbo n=203). At baseline, mean age was 33 years, mean UPCR=3.78, mean serum creatinine=0.93 mg/dL and mean GFR=95 mL/min. Yr 1 study completion rates were ABA 77%, pbo 79%; fewer ABA pts discontinued during Yr 2 (ABA 14%, pbo 22%) and beyond. There were no significant differences between treatment arms in the proportion of pts with CR after 52 wks of treatment (ABA 35.1%, pbo 33.5%, p=0.73; primary endpoint). Achievement of sustained CR (2 successive visits) occurred earlier and more frequently in ABA-treated pts (figure 1). These benefits were driven by improvement in proteinuria which was seen as early as Day 85 (adjusted mean change in UPCR ABA –2.50, pbo –2.00; adjusted difference from pbo [95% CI] –0.50 [–0.84,–0.16]) and was sustained beyond Yr 2 (Yr 2: ABA –3.13, pbo –2.72; adjusted difference from pbo [95% CI] –0.41 [–0.79,–0.03]). There was no negative impact of ABA on renal function (eGFR). Few non-renal adjudicated BILAG A or B events occurred in Yr 1 (ABA=13 [BILAG A=0], pbo=12 [BILAG A=2]). Safety in Yr 1 was consistent with the known profile of ABA (serious adverse event [SAE] rate ABA 24%, pbo 19%). SAE rates after Yr 1 improved (ABA 6%, pbo 13%). The death rate was similar at Yr 2 (ABA 7, pbo 6). Improvements in SLE-related pharmacodynamic markers (C3, C4 and anti-dsDNA autoAb) were more sustained in ABA-treated pts.
Abstract OP0253 – Figure 1 Kaplan-meier plot of time to first sustained complete renal response during year 1 of double-blind period: all randomised and treated patients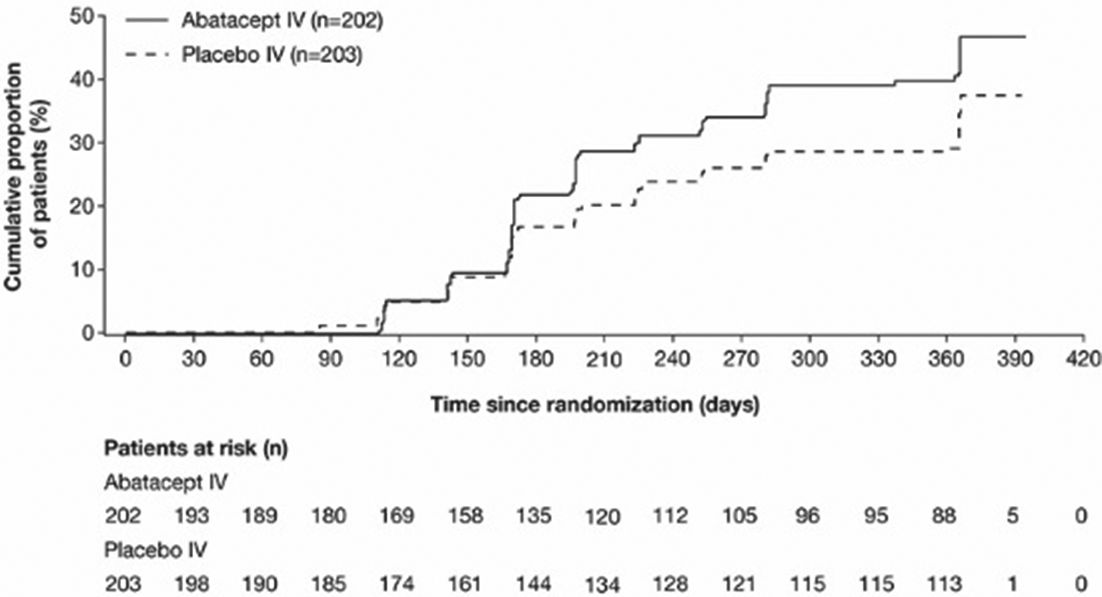 Conclusions: The study failed to meet its primary endpoint of higher CR rate in pts with active class III or IV LN after 1 year of abatacept treatment. Abatacept-treated pts had more rapid improvement in proteinuria, which led to earlier, sustained CR. There was a favourable safety profile extending beyond 2 years of treatment.
Disclosure of Interest: R. Furie Grant/research support from: Bristol-Myers Squibb, Consultant for: Bristol-Myers Squibb, M. Dooley Consultant for: Bristol-Myers Squibb, D. Wofsy Consultant for: GlaxoSmithKline, Novartis, Celgene, UCB, Sanofi, T. Takeuchi Grant/research support from: Bristol-Myers Squibb, Chugai Pharmaceutical Co, Daiichi Sankyo, Takeda, Teijin Pharma, AbbVie, Asahikasei Pharma, Mitsubishi Tanabe Pharma Co., Pfizer,and Taisho Toyama Pharmaceutical Co., Eisai, AYUMI Pharmaceutical Corporation, Nipponkayaku, Consultant for: AstraZeneca, Eli Lilly, Novartis, Mitsubishi Tanabe Pharma Co., Abbivie, Nipponkayaku, Janssen, Astellas Pharma,Taiho Pharmaceutical, Speakers bureau: AbbVie,Bristol-Myers Squibb, Chugai Pharmaceutical, Mitsubishi Tanabe Pharma Co., Pfizer, and Astellas Pharma, and Diaichi Sankyo, A. Malvar: None declared, A. Doria Consultant for: GSK, Pfizer, Eli Lily, Bristol-Myers Squibb, Speakers bureau: GSK, Pfizer, Eli Lily, Bristol-Myers Squibb, J. Romero-Díaz: None declared, T. Chan Grant/research support from: Astellas, Consultant for: Astellas, Novartis, Boehringer Ingelheim, Aurinia, A. Elegbe Employee of: Bristol-Myers Squibb, G. Appel Grant/research support from: Bristol-Myers Squibb, D. Jayne Grant/research support from: GSK, Roche, Sanofi, Consultant for: Aurinia, Boehringer, Chemocentryx, CSL, GSK, Inflx, Medimmune, Takeda, Sanofi, M. Maldonado Shareholder of: Bristol-Myers Squibb, Employee of: Bristol-Myers Squibb
DOI: 10.1136/annrheumdis-2018-eular.3451
---
Citation: Ann Rheum Dis, volume 77, supplement Suppl, year 2018, page A176
Session: Present and future treatments for SLE, Sjögren's and APS