THU0202 (2020)
INTEGRATED SAFETY ANALYSIS OF FILGOTINIB TREATMENT FOR RHEUMATOID ARTHRITIS FROM 7 CLINICAL TRIALS
1Stanford Univ, Stanford, CA, United States of America
2Oregon Health and Science Univ, Portland, OR, United States of America
3Univ of Occupational and Environmental Health, Kitakyushu, Japan
4Keio Univ School of Medicine, Tokyo, Japan
5Altoona Ctr for Clinical Research, Duncansville, PA, United States of America
6Gilead Sciences, Inc, Foster City, CA, United States of America
7Galapagos BV, Leiden, Netherlands
8Charité Univ Hospital Berlin, Berlin, Germany
9Strasbourg Univ Hospital, Strasbourg, France
Background: Filgotinib (FIL), an oral, potent, selective JAK-1 inhibitor, provided statistically significant and clinically meaningful improvement in rheumatoid arthritis (RA) signs and symptoms, physical function, radiographic progression, and quality of life in a comprehensive clinical program of 4 phase 3 (FINCH 1–4; NCT02889796, NCT02873936, NCT02886728, NCT03025308) and 3 phase 2 (DARWIN 1–3; NCT01668641, NCT01894516, NCT02065700) trials in patients (pts) with early and biologic-refractory RA. 1–3
Objectives: To assess long-term safety of FIL.
Methods: Treatment-emergent adverse events (TEAEs) from the FIL clinical program were integrated and presented for pts receiving FIL 200 mg or FIL 100 mg QD (including pts who transitioned to FIL from placebo [PBO], methotrexate [MTX], adalimumab [ADA], or another dose of FIL) as well as pts receiving PBO, MTX, and ADA across all 7 studies. Exposure-adjusted incidence rates (EAIRs) per 100 patient-years (PY) were calculated for adverse events (AEs) of interest per treatment. Incidence was total number of pts with events, and PY exposure was time between first and last doses. Major adverse cardiovascular events (MACE) and venous thromboembolism (VTE) were centrally adjudicated by an independent committee.
Results: Across the 7 trials, 4057 pts with RA (2227 pts FIL 200 mg; 1600 pts FIL 100 mg) received >1 dose of treatment for 5493 total PY of exposure (3079.2 PY FIL 200 mg; 1465.3 PY FIL 100 mg) ( Table ). EAIRs of serious AEs and TEAEs leading to death in pts receiving FIL were comparable to those for PBO, ADA, or MTX, with no dose-dependent effect ( Figure 1 ). EAIR for herpes zoster (HZ), serious, and opportunistic infections are shown in Figure 2 . EAIR for HZ were low overall, but numerically slightly higher for FIL relative to PBO, ADA, and similar to MTX. Serious infection EAIRs were comparable between pts receiving FIL 100 mg and ADA, and numerically slightly lower for FIL 200 mg and MTX. Rates of opportunistic infections (including active tuberculosis) were low overall; EAIR for FIL doses were comparable to placebo and numerically lower than ADA or MTX. Rates of MACE and VTE were numerically lower for FIL relative to PBO ( Figure 1 ). Malignancies, including nonmelanoma skin cancer, were rare overall, and rates were low in pts receiving FIL ( Figure 1 ).
Total exposure to study treatments pooled from 7 studies
| | Number of patients | Patient-years of exposure |
| --- | --- | --- |
| FIL 200 mg | 2227 | 3079.2 |
| FIL 100 mg | 1600 | 1465.3 |
| ADA | 325 | 290.1 |
| MTX | 416 | 356.2 |
| PBO | 781 | 302.4 |
Patients could contribute to >1 treatment group.
ADA, adalimumab; FIL, filgotinib; MTX, methotrexate; PBO, placebo.
Conclusion: In this integrated analysis, FIL was well-tolerated, and no new safety concerns were identified. No clinically meaningful dose-dependent safety effects were observed. MACE and VTE were uncommon. Serious infections rates were low; HZ reactivation was infrequent. Safety results were consistent with selective JAK-1 inhibition and highlight the favourable safety and tolerability of FIL in patients with RA.
REFERENCES:
[1]Genovese, et al. JAMA 2019;322(4):315–25.
[2]Westhovens, et al. Ann Rheum Dis 2017;76:998–1008.
[3]Kavanaugh, et al. Ann Rheum Dis 2017;76:1009–19.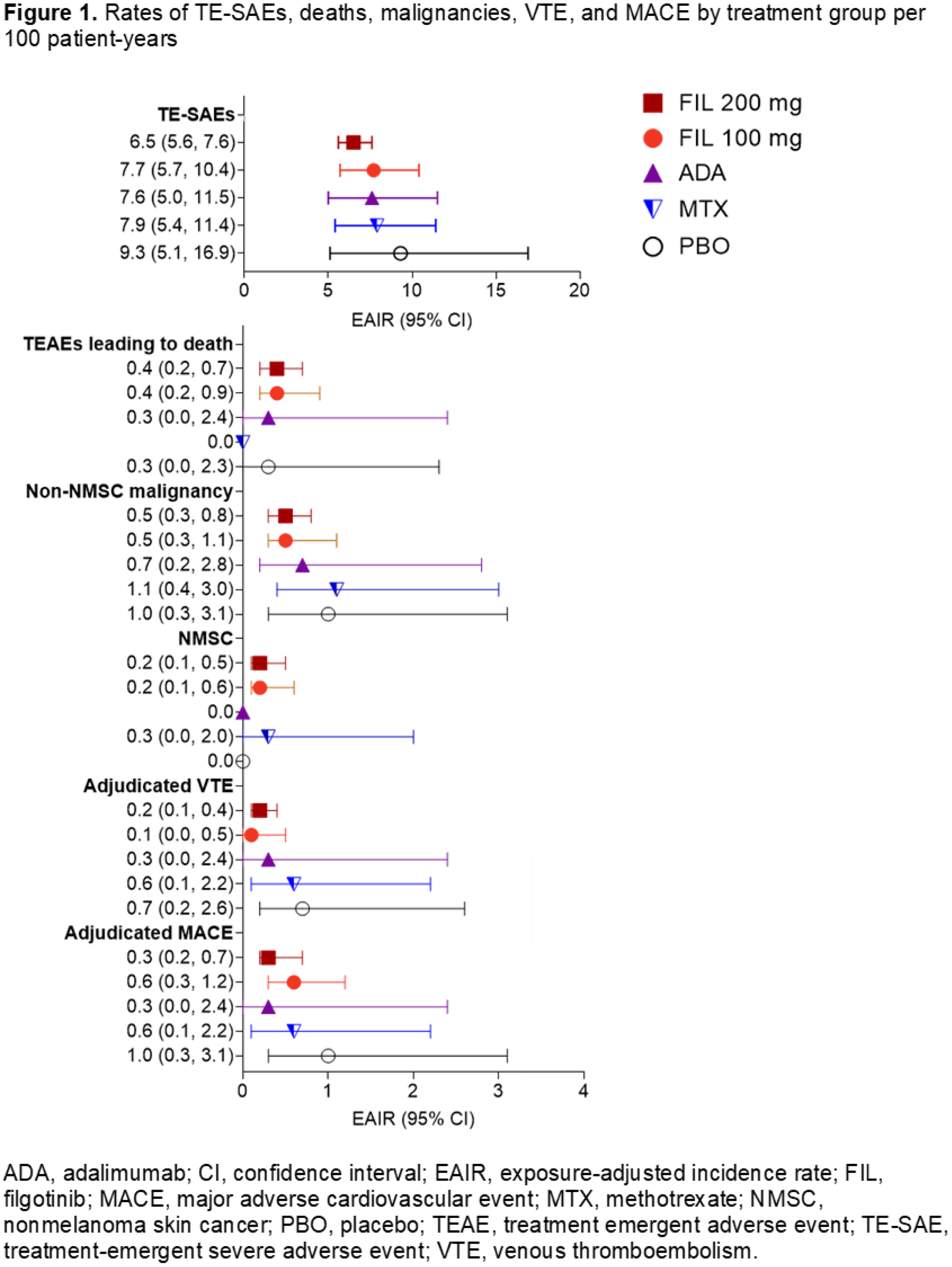 Disclosure of Interests: Mark C. Genovese Grant/research support from: Abbvie, Eli Lilly and Company, EMD Merck Serono, Galapagos, Genentech/Roche, Gilead Sciences, Inc., GSK, Novartis, Pfizer Inc., RPharm, Sanofi Genzyme, Consultant of: Abbvie, Eli Lilly and Company, EMD Merck Serono, Genentech/Roche, Gilead Sciences, Inc., GSK, Novartis, RPharm, Sanofi Genzyme, Kevin Winthrop Grant/research support from: Bristol-Myers Squibb, Consultant of: AbbVie, Bristol-Myers Squibb, Eli Lilly, Galapagos, Gilead, GSK, Pfizer Inc, Roche, UCB, Yoshiya Tanaka Grant/research support from: Asahi-kasei, Astellas, Mitsubishi-Tanabe, Chugai, Takeda, Sanofi, Bristol-Myers, UCB, Daiichi-Sankyo, Eisai, Pfizer, and Ono, Consultant of: Abbvie, Astellas, Bristol-Myers Squibb, Eli Lilly, Pfizer, Speakers bureau: Daiichi-Sankyo, Astellas, Chugai, Eli Lilly, Pfizer, AbbVie, YL Biologics, Bristol-Myers, Takeda, Mitsubishi-Tanabe, Novartis, Eisai, Janssen, Sanofi, UCB, and Teijin, Tsutomu Takeuchi Grant/research support from: Eisai Co., Ltd, Astellas Pharma Inc., AbbVie GK, Asahi Kasei Pharma Corporation, Nippon Kayaku Co., Ltd, Takeda Pharmaceutical Company Ltd, UCB Pharma, Shionogi & Co., Ltd., Mitsubishi-Tanabe Pharma Corp., Daiichi Sankyo Co., Ltd., Chugai Pharmaceutical Co. Ltd., Consultant of: Chugai Pharmaceutical Co Ltd, Astellas Pharma Inc., Eli Lilly Japan KK, Speakers bureau: AbbVie GK, Eisai Co., Ltd, Mitsubishi-Tanabe Pharma Corporation, Chugai Pharmaceutical Co Ltd, Bristol-Myers Squibb Company, AYUMI Pharmaceutical Corp., Eisai Co., Ltd, Daiichi Sankyo Co., Ltd., Gilead Sciences, Inc., Novartis Pharma K.K., Pfizer Japan Inc., Sanofi K.K., Dainippon Sumitomo Co., Ltd., Alan Kivitz Shareholder of: AbbVie, Amgen, Gilead, GSK, Pfizer Inc, Sanofi, Consultant of: AbbVie, Boehringer Ingelheim,,Flexion, Genzyme, Gilead, Janssen, Novartis, Pfizer Inc, Regeneron, Sanofi, SUN Pharma Advanced Research, UCB, Paid instructor for: Celgene, Genzyme, Horizon, Merck, Novartis, Pfizer, Regeneron, Sanofi, Speakers bureau: AbbVie, Celgene, Flexion, Genzyme, Horizon, Merck, Novartis, Pfizer Inc, Regeneron, Sanofi, Franziska Matzkies Shareholder of: Gilead Sciences, Inc., Employee of: Gilead Sciences, Inc., Lei Ye Shareholder of: Gilead Sciences Inc., Employee of: Gilead Sciences Inc., Deyuan Jiang Shareholder of: Gilead Sciences, Inc., Employee of: Gilead Sciences, Inc., Ying Guo Shareholder of: Gilead Sciences, Inc., Employee of: Gilead Sciences, Inc., Beatrix Bartok Shareholder of: Gilead Sciences Inc., Employee of: Gilead Sciences Inc., Robin Besuyen Shareholder of: Galapagos, Employee of: Galapagos, Gerd Rüdiger Burmester Consultant of: AbbVie Inc, Eli Lilly, Gilead, Janssen, Merck, Roche, Pfizer, and UCB Pharma, Speakers bureau: AbbVie Inc, Eli Lilly, Gilead, Janssen, Merck, Roche, Pfizer, and UCB Pharma, Jacques-Eric Gottenberg Grant/research support from: BMS, Pfizer, Consultant of: BMS, Sanofi-Genzyme, UCB, Speakers bureau: Abbvie, Eli Lilly and Co., Roche, Sanofi-Genzyme, UCB
---
Citation: Ann Rheum Dis, volume 79, supplement 1, year 2020, page 320
Session: Rheumatoid arthritis - non biologic treatment and small molecules
(Poster Presentations)